Ca in fiecare an, si in acest an s-a organizat ContiShowOff. Sub devizia "Creative people drive the future" evenimentul pune accent pe prezentarea tehnologiilor noi pe care Continental le dezvolta si care de multe ori ajung si in masini electrice. Se stie ca masinile electrice sunt bine dotate cu sisteme de siguranta de ultima generatie, iar de aici a rezultat o colaborare intre Continental si grupul oarecum restrans de proprietari de masini electrice din zona de Vest a tarii.
Data nu a fost favorabila tuturor, asa ca, in final am participat doar eu cu un BMW i3 imprumutat de la Dragos Ciobanu, EVconnect, cu scopul de a prezenta informatii despre masini electrice, dar si de a oferi curiosilor experienta de a conduce o masina electrica.
Atat locatia bine aleasa de organizatori, cat si traficul redus din zona, mi-a permis sa le ofer oportunitatea tuturor celor interesati sa conduca i3-ul pe un circuit de aprox 3km.
Pentru cei care ati mai condus o masina electrica, poate mai tineti minte cum v-ati simtit atunci cand v-ati pus prima oara la volanul unei masini electrice. Zambete euforice care nu dispar vreme de cateva minute, adrenalina oferita de acceleratia instanta, combinata cu surprinderea oamenilor cand nu aud motorul, dar si curiozitatea de afla cat mai multe detalii despre metode de incarcare, autonomie, costuri samd.
Pentru cei care inca nu ati condus o masina electrica, va recomand sa cereti un test drive unui dealer local. Va fi de neuitat!
Experienta din intreaga zi se regaseste in materialul video de mai jos: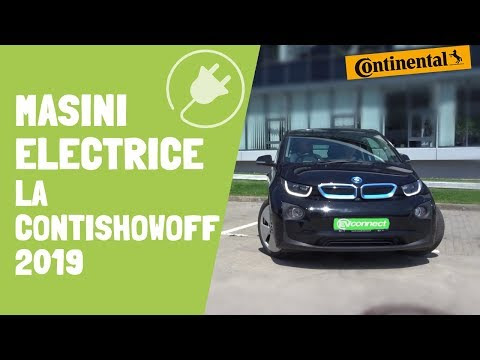 Multumiri inca o data lui Dragos pentru masina, si felicitari echipei de la Continental pentru initiativa si organizare.
Sa ne vedem cu bine la cat mai multe evenimente in viitorul apropiat.
Norbert Varga, Arad
My lifelong automotive career started with design and testing of ICEs, continued with service and sales, followed by 20 years of global seat design, requirements and knowledge management.
My recent passion for electric vehicles found its home at 24auto.ro and electromobilitate.